Our Emergency Response to COVID-19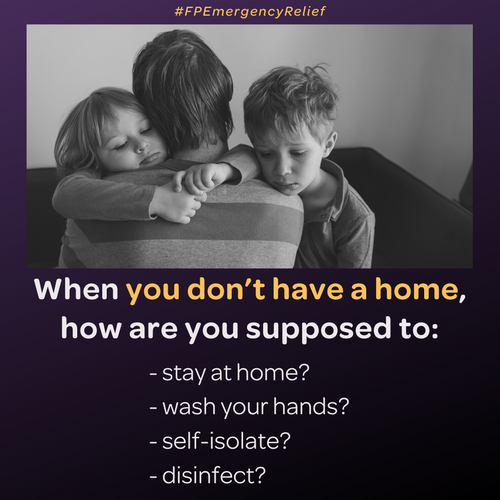 These are really important questions. 
FPSGV has been working on some answers.
Things have changed significantly and rapidly in each of our worlds over the last couple of weeks.  And they keep changing.  

At Family Promise of San Gabriel Valley we have been closely monitoring the recommendations and orders from all of the relevant authorities - the CDC, the County Board of Supervisors, City leaders, LAHSA and the LA Department of Public Health - for guidance and best practices related to our specific work.  We've been communicating with local officials, peers, and other Family Promise affiliates throughout the country.

From the beginning of this crisis we knew we would continue to serve our guest families and quickly implemented the guidance and protocols necessary to keep everyone safe and healthy - guests families, volunteers and staff.  Yet, as this crisis evolved we recognized we would also need to make some modifications and adapt our programs and services. 

We are an essential, life-sustaining resource within the SGV community and as such we are committed to responding responsibly to the needs of new families still experiencing, or at risk of homelessness, as they are especially vulnerable to COVID-19.
Would you join us in providing life-sustaining services during this pandemic as we press in to serve low income families facing homeless - some of the most vulnerable and hardest hit by COVID-19 – by giving to the Family Promise SGV Coronavirus Emergency Relief Campaign today?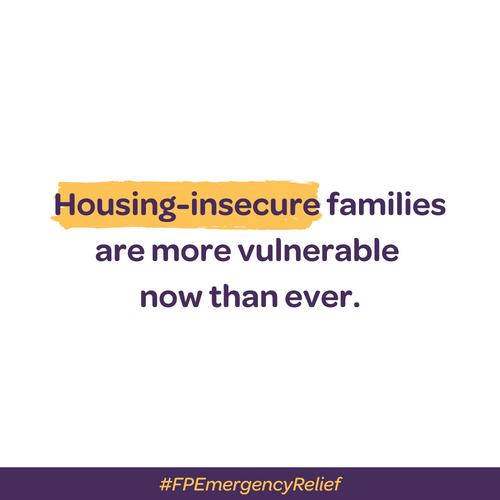 So Here's How We Are Pressing In
We have moved our current guest families, and any new families that we bring into the program during this crisis, to a motel until we are able to determine it is safe and responsible to resume our usual rotational shelter. 

We have determined this the safest and most effective way to continue the supportive case management and other life sustaining services FPSGV provides.
Motels on average cost $88.25/night or $617.75/week, per family.  This is not something we have budgeted for, but it is what is needed now.  Will you give today to ensure a family has a safe place to stay during the COVID-19 pandemic?
Families basic needs, meals, groceries, gas, at home health, cleaning/disinfecting, and other daily needs will continue to be met. 

We have adapted how we provide hospitality and will meet the daily needs of families and children who are now also home from school.  Grocery, meals and other needs will be delivered so as to minimize physical contact and contamination as much as possible.  While we recognize this is in many ways the opposite of our FPSGV model, we must ensure everyone's health and safety, minimizing exposure as much as possible. We're working on some creative ways to continue to be socially present and practically and emotionally supportive of our guests as a community.  Let us know if you want to be involved in this way or have some ideas!  We estimate that it costs about $250 to provide groceries and meal delivery for a family in a motel for about 2 weeks.  Will you give today to ensure a family has healthy and nutritious food during this health crisis?
Programs and Services will continue to operate in a modified format.

While so much of our normal lives have been suspended or stopped entirely, homelessness among families has not been suspended!  In fact, many families are even more at risk of homelessness than before. We will continue to bring in and serve new families, providing tele-case management, advocacy and other services with minimal direct contact. Yay for technology! $500 will provide one month of intensive case management for families looking to regain employment, save income and secure stable housing.  About $1800 will provide one month of rental assistance for a family who has lost wages so that they can remain housed during this pandemic.  Will you give today to ensure we can provide these life sustaining services?
Normal operations at our offices and the Day Center are suspended until further notice.
We have incredible volunteers that we value dearly.  So as not to jeopardize their own health, or that of their households we are looking for creative ways to utilize those that want to serve in different ways than before.  Additionally, staff are working remotely as much as possible, continuing to monitor voice mails and email channels from those seeking services and assistance. 
Opportunities to Join With Us!
Like you, COVID-19 presents new challenges for us as well.  But, we are determined to continue serving families facing homelessness during this global pandemic. Families need our help now! 
We anticipate some bumps in the road, but we also know that we must act TOGETHER AS A COMMUNITY as we figure it out.  We welcome your ideas and suggestions so please reach out and share with us how you want to be part of this response.
More creativity
More flexibility
More resources
New ways of "being present"
And, of course, your support to the Family Promise SGV Coronavirus Emergency Relief Campaign will ensure we are able to remain responsive to families' emerging needs related to COVID-19, its impact here in our communities, and that adequate resources continue to be available.   All of these are needed from each of us to fulfill our promise of hope for the families and children that need us now more than ever. 
WE ALL NEED ONE ANOTHER!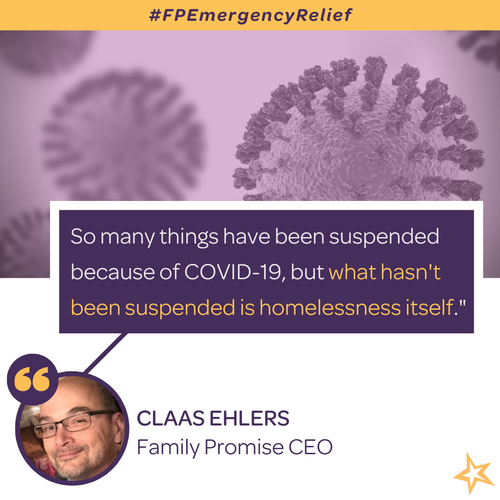 Join Us: #FPSGVRespondsTOGETHER!